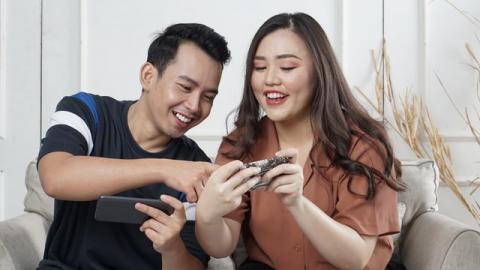 Nothing is better than playing games with pals. Yet what happens if you don't have a board game or even a PC, Wii, or Xbox around to compete with friends? Well, considering the majority of people do happen to have a mobile phone there is your answer! Spend time challenging your friends on virtual games, competing with them on a battle of wits. But which games should you consider? Evidently, there is a whole list, but which ones are you and your pals most likely to enjoy? That again lies the tricky question. Here is a list of the top mobile games you and your friends can truly enjoy - spending moments and more time together than ever before.
Genshin Impact
This is a free action game play for multiplayers, where you can join teams of up to four players and fight. Taking on dungeons and other monsters, you will have fun tackling this with a group of your friends.
Mario Kart Tour
If you are a major Mario Kart fan, then consider tackling this mobile game with your phone. You have fun, play remotely with your friends, and organise amazing matches. However, you will need to create a Nintendo account for yourself and at first play a few games on your own. When you have passed the first level, then you can access friends and add them to your games and matches - challenging them to see who is truly the best.  And what is great is that it is truly free of charge!
Kahoot!
This is trivia night with friends, only on mobile! Kahoot allows you to create your own quizzzes and finally it adds a unique game pin code that you can share with your friends to both access and enjoy. You can even have up to ten friends join per game if you stay ion the free version, but if you would like more then you may have to apply for the premium version which is just about $10.00 a month.
Houseparty
This is a charades-like game all within a video app. Invite your friends to House Party, and you will be able to launch a new game of Heads Up! You can choose a couple of decks for free or purchase multiple more decks all for about $1 each to make the game more interesting.
Uno
The game that ends all friendships, but boy is it worth it! This app allows you to play all sorts of variations of the game with your friends, but can also do this remotely.  All you have to do is click on the social button which happens to be at the bottom right of your screen and send the invite links to your friends. Then have fun!  You can even talk about the game as it allows you to communicate with each other while playing. This prevents the need to set up multiple apps  at the same time to serve different purposes.
Ball Pool
This is a version of pool without actually having to fit a pool table in your house nor can afford to go to the club, then this is next best. You can play with anyone else by linking your account to Facebook. So if you are keen for a little pool without even having to leave the house, then you can really consider this mobile app.
Minecraft: Pocket Edition
A small version of one of the world's most popular games, this edition is exactly the same as the PC version.  You can play with your friends either locally or online on the same server. It all depends on you and where your friends are. It is certainly one of the best games to play with friends online and even family members as it is very child-friendly, and only costs $10.99. It is also available on iOS as well as Android.
Words with Friends and Scrabble Go
Test out your vocabulary skills in a game of scrabble, which has been on of the most popular online multiplayer games. Add your friends on the app, and get to scrabble!  After all, Scrabble is a classic game which, much like Uno, never really gets old. It can fit both into party games or just simply a way to show off your amazing vocabulary.
PUBG
A battleground online multiplayer game, you will enjoy this with your friends like none other before. If you haven't played this game before, then you should try it today.  Being dropped off at randomized spawn points, your goal is to be the last player to be standing.  This is especially  fun  if you enjoy shooter games, and can certainly be a challenge when playing against your friends.
And there you have it!  A great big list of games you can try out with your friends. Most of them are free, and many don't even altogether require your friends to be in the same room! Organise matches and have fun! Afterall, that is what mobile games are about, and it is even better when you can play together, bringing you closer.