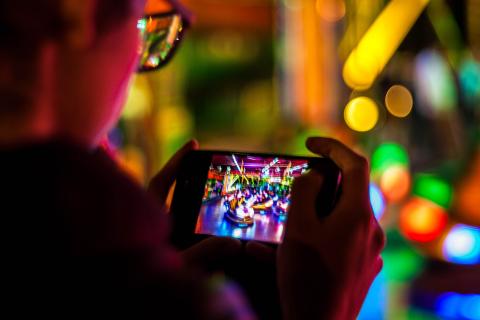 When you are stuck in the house on a rainy day looking for something to do, there is virtually no end to mobile games for friends as well as couples. If you would like to even build a closer relationship, have some fun, and enjoy a little bit of virtual gaming with your partner, here is a list of the best mobile games for couples you can truly consider.
Word with Friends 2
It is a battle of the words when it comes to this game, which is both challenging as well as fun. Being a greater version of Scrabble, the main objective of the game is to find and make as many words as you can with a limited amount of letters. It is really fun to have a go at it with your partner as you see how many words they really know. You can play on randomized boards as well as with different squares and versions. This makes each round unique, fun and different, allowing you to go a step higher than the classic game of Scrabble.
Battletext
In the same line as Scrabble - this is another game that can test your vocabulary, challenge your brain as well as the speed you can text. The goal of the game is to give a word that starts with the last letter your opponent has given you. The longer the word you type up, the more points you will gain. However, time is limited and you need to be able to reply within seconds in order to win this game. Any timed game is thrilling and fun to tackle with your partner.
Couple Game - Relationship Quiz
This is a game dedicated to couples, testing out how well you truly know the love of your life. Each person will have to answer some of the questions, and sometimes it can get very interesting.  Then afterwards, your partner has to take a guess at all the answers you have given. If they get it right, they score a point, and naturally the person with the highest point happens to win. But evidently, the winning factor is the relationship you two build with each other as the game progresses. Obviously, you will learn more interesting facts, and you can even play it if you are going for a long distance relationship.
Ludo King
This is a classic and well known board game now converted into an app. This Ludo King is actually the most popular Ludo game that is currently at the play store, and has cool features such as an ability to add voice chat as well as other forms of emojis.  You can also play other games on the app itself such as the classic and well known-snakes and ladders.
Draw Something
A version of pictionary that can be quite fun as well as flirty depending on your choice of drawing. You can play with the game prompts or even add extra words if you would like. It all depends on you and what your partner would enjoy. Either way, it is a classic, fun game that the two of you can try, staying close even in your digital life.
Trivia Crack
Checking out your brains, this is a great game to challenge your partner in! If you are both into knowledge and would like to take a crack at what the two of you really know, then have a go at Trivia Crack, which takes on topics such as geography, to sports, to arts to even science - the sky is your limit to testing your knowledge. Evidently it will be fun to tackle subjects that you both know as well as those that you specialise in individually (take turns in beating each other with your superior knowledge). After all, it is said that intelligence is very attractive is it not?
Hangman
Another classic game that never gets old, this activity can turn into a lot of hours of entertainment and fun, whether you want to play it in the evenings or weekends. Hangman is even a great way to deliver surprising news if you want to, and have everyone guess it! This has a nice play on words, allowing you to open doors into different conversations as well as enjoy a classic game that had probably been played in childhood. This brings up age old nostalgia, but yet will never grow old.
There you have it! A whole list and range of fun games to try out with your partner! Spend hours poking fun, getting to know them, having giggles as well as making memories together even on a bored rainy day. After all, in this technologically hooked society, why not spend the time you have on the phones to get to know each other just a little better?